Our Company
Colt Technologies, Inc. was established in 1982 to provide air pollution control technology and specialized process equipment to U.S. industry. In over 30 years, our pollution control systems have been installed in a variety of applications with currently over 100 active system locations worldwide.
Headquartered in Dallas, Texas, Colt Technologies, Inc. serves a number of industries with a complete range of technologies and services.
Aerospace
Graphic Arts
Flexible Packaging
Railcar
Automotive
Processed Foods
Chemical Processing
Ethanol
Our Difference
The Colt team knows that you have a choice to make between a number of competitors in the air pollution control industry. We know this well because our customers regularly hire us to troubleshoot, repair or replace their existing non-Colt equipment.
Over the years, we learned from these opportunities and others' mistakes and refined our own equipment design so that we can consistently offer the most reliable and effective equipment available anywhere. In addition, these experiences continually help to define our company goals to be the quality and service leader in the industry.
These are just a few things that set Colt apart from our competitors.
Equipment Design

Our design focus is to create highly functional systems that minimize downtime and routine maintenance.

Component Selection
Material Selection
Project Partnership

We consider every project a mutually beneficial partnership with our long-standing reputation for quality and service on the line every time.
Care in Construction
Long Service Life

We design and manufacture our abatement systems and components with long-term operability in mind.

Process Expertise
Level of Service
Colt equipment is designed, constructed and installed using over three decades of lessons learned and always includes the commitment of our entire team to offer the best technology and service in the business.
System Quality
Since our founding, Colt has always set the highest standards for service, system quality and reliability. After three decades, our expertise continues to be in delivering the highest quality and most reliable, custom designed air pollution control and industrial process systems you will find anywhere.
History of Success
Colt's reputation is unsurpassed in the capture and control of volatile organic compounds (VOCs), hazardous air particulates (HAPs) and chlorinated compounds. The experience gained from years of operating RTO and Packed Bed Scrubber systems on Chlorides, Sulfur Dioxide, and Hydrogen Sulfide emissions allows Colt to choose the best possible technology, materials of construction, and instrumentation package for your specific application.
Our family of Recuperative and Regenerative Thermal and Catalytic oxidation technologies coupled with our comprehensive system services can help your plant meet any regulatory requirement and project demands.
Comprehensive Services
Colt's experienced personnel provide comprehensive engineering, fabrication and turnkey field support services for your project through the design, installation, and long-term support phases.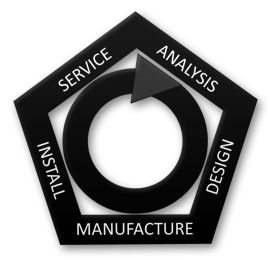 We specialize in delivering turnkey projects for the capture and control of VOC emissions from virtually any industrial process and scale of operation. However, if you currently have a competitor's system, Colt can also troubleshoot, repair or replace your existing emission control equipment and components as needed.
After installation and start-up, Colt systems are covered by industry leading warranties. Periodic inspections and preventative maintenance services are also available to keep your Colt equipment operating at peak efficiency.
From project conception to after-sales service, Colt's comprehensive project capabilities allows our team to support your project requirements regardless of scope.
Engineered Solutions
Colt manufactures air pollution control systems in a wide variety of materials of construction from mild steel to Hastalloy and Titanium, as required to meet your unique application requirements. Custom designed process exhaust ductwork, foundations, networked controls and instrumentation can also be provided under Colt's comprehensive turnkey services.