Long Term Support
Contract Maintenance
Colt's TOPPS™ program (Total Operating Performance Protection Services) is a contract maintenance service for all Colt equipment. Experienced personnel are provided for all levels of support with the type of service and schedule designed to suit your particular plant requirements.
Common service plans include the following: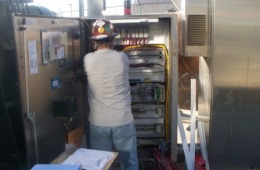 Mechanical: External and Internal Inspection
Electrical: Inspection and Calibration
Process Control Loops: Inspection, Review and Calibration
RTO Efficiency Review: Portable Detector Test
Preventative Maintenance Review of Logs and Procedures
Colt designs and manufactures our systems to last, but regular preventative maintenance by Colt technicians can extend the service life of your emission control equipment.
Read this case study about the long service life of one of Colt's engineered oxidizer systems.
Rebuild Services
Colt's expertise in air pollution control science allows our personnel to repair and rebuild non-Colt equipment as well. Corrosion, clogging and poor system design can lead to inefficient performance or worse and our dedication to quality and long-term customer care makes Colt an ideal partner for your company.
Spare Parts Support
Colt provides spare parts from stock on an emergency basis, along with field service support. Colt's close association with industry partners enables us to provide quick turn around on virtually any equipment, control or instrumentation requirement.